sorcerer wrote: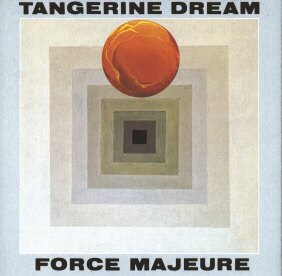 Another copy of this purchased on vinyl. Mainly for the album art which I am framing to go up with all my other favourite albums of all time...Seconds Out...Close To The Edge...Topographic Oceans...Animals etc etc. I need to get additional Phaedra and Rubycon LPs. Stunning album covers.
So just listened to Force Majeure there. What a magnificent work it is. The thing that stood out on this listen for me was the quality and inspirational guitar playing from Edgar. Probably the best ever from Mr Froese on a TD album ? I try not to listen to this album too often as I do not want to become jaded or too familiar with it. Top 3 TD for me. Absolutely stunning music. 70s Dream
There is a reason why Force Majeure is my avatar. I had tried Tangerine Dreams music in early 90's, but I never understood how important this band is because in Finland TD has always been very unknown and nobody talks about it. I knew about them because some of my electronic music favorites such as LFO and Autechre mention them as their influences, but for my young ears back in early 90's the cosmic 70's sounds of TD were "outdated", but that was my own ignorance, no the music itself. Some 15 years later I decided to check out TD again with less ignorant ears. Internet helped me to study the band. I I was shocked to learn the band still existed and made music all the time! Back in the 90's I was in the impession they have maybe 10 albums and Tyger is perhaps the last of them. There was no internet to Google this stuff! If you didn't know you didn't know! I understood they were MASSIVE! In Finland only Kraftwerk is known of these old pioneers. I am not into Kraftwerk myself.
Anyway, in December 2007 I educated myself about TD online. Their enourmous output forced me to do my homework well about where to start with TD and I concluded Force Majeure is a good point. I ordered the CD and received it the last day of year 2007. It BLEW ME AWAY! Next I ordered Tangram which I received January 18, 2008. Again I was blown away. The rest is history. Just three years later I had 90 CDs or TD and I had discovered one of my top favorite artists ever! So, Force Majeure for me is very special album. The door into the wonderland called Tangerine Dream.