from earlier in the thread Chris:
Electronic Soundmaker & Computer Music, Jan 1985
, in article titled:
The Dream House
TD were interviewed in their Berlin studio.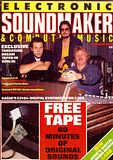 Edgar-....When we're working in the studio we'll save sounds and patterns on floppy disks for stage use- sampled sounds for percussion are fixed in EPROMS which we had before the Oberheims and Linns which we now use. Sampled voice sounds can come off the Emulator driven by voltage control; the
"Wake Up"
sample we use on
Logos
was made with a Publison unit which we liked, but the company were never able to complete a disk storage unit for it."
Page 28
From memory Edgar used the same Publison sampler for some of the weird sounds on
Firestarter